Author(s):
Julhas Alam reported this story for the Associated Press. Faith Pirlo adapted it for VOA Learning English.
Language of the news reported:
Main photo: Workers walk to work at an export processing zone early in the morning after crossing the Mongla river in Mongla, Bangladesh, March 3, 2022. This Bangladeshi town stands alone to offer new life to thousands of climate migrants. (AP Photo/Mahmud Hossain Opu)
In Bangladesh, the south west seaport town of Mongla is home to thousands of refugees. They are not fleeing war or another conflict. They are refugees from climate change.
Monira Khatun is 29 years old and is one of these refugees. She returned to her father's home after her husband left her, only to have her father die. She had to care for three other family members. A river washed away her family's home.
"I lost everything. There was darkness all around. My parents' home was gone to the river for erosion, we had no land to cultivate," Khatun said.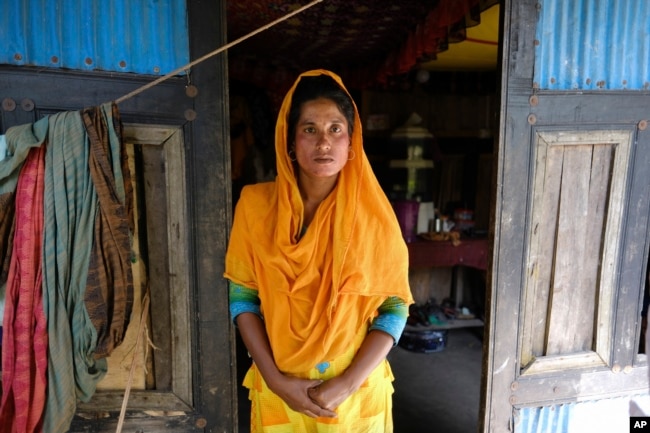 Monira Khatun, 29, stands by the door of her house in Chila Bazar, in Mongla, Bangladesh, March 4, 2022. (AP Photo/Mahmud Hossain Opu)



She moved to Mongla and now works in a factory in a special economic zone that gives jobs to climate refugees.
There are about 150,000 climate refugees in Mongla. They have lost their homes, land and work. Most are from nearby villages. Now there is chance at a new life in the coastal town near the Bay of Bengal.
A United Nations Intergovernmental Panel on Climate Change published a report stating that by 2050, 143 million people will be forced to move because of climate change. They will move either within their country's borders or beyond because of rising sea levels, droughts, hot temperatures and other climate disasters.
Asia is one of the hardest-hit places, and its leaders are trying to find answers.
Mongla is now a model town of climate resilience. Saleemul Huq is a climate scientist and the director for the International Center for Climate Change and Development in Dhaka, Bangladesh. He says Mongla's success story is a model for how climate refugees can change their lives through new opportunities.
"Mongla has offered new opportunities to them. With its seaport and an export processing zone and climate-resilient infrastructure, Mongla town has become a different story," Huq said.
With such a successful model, more towns along the coast in Bangladesh could become migrant-friendly locations. These river and sea port towns are economic centers, and the model could be copied in those places. Huq says that talks have started with leaders of six towns so far.
"These are all secondary towns with populations of up to half a million, which can shelter up to another half a million climate migrants each. Thus, we can offer alternatives to at least 10 million climate migrants over (the) next one decade," Huq said.
An aerial view shows Mongla town in Bangladesh, March 3, 2022. (AP Photo/Mahmud Hossain Opu)



Bangladesh is vulnerable to the effects of climate change because it is near sea level. Millions are at risk of being forced to leave their homes just in Bangladesh because of river erosion, increased movement of salt water and intense storms.
The World Bank reported in 2021 that by the year 2050 Bangladesh will have half of the estimated number of refugees in all of South Asia, a total of almost 19 million displaced people.
The idea of creating new communities for the displaced is called transformative adaption. It is an alternative to forcing the climate refugees to move into the poorer areas of larger cities, like in the capital of Dhaka. Twenty-four smaller coastal towns like Mongla could accept 10 million refugees minimum.
"The trend is that climate migrants move to places where there are economic activities for them. We can't stop displacement, we can only offer alternatives that they will accept," he said.
Small changes in Bangladesh have occurred in recent years, like rice that is able to grow in saltwater. These changes have helped some communities manage the effects of climate change, but Huq says that these changes are not long term. Transformative adaptation is the best solution.
The government of Bangladesh is protecting the town of Mongla by spending tens of thousands of dollars creating climate-resilient infrastructure. Foreign investments from countries like the United States, Japan, South Korea and China have increased over the past four years. These investments in the Mongla Export Processing Zone (EPZ) have created new factory jobs for the climate refugees.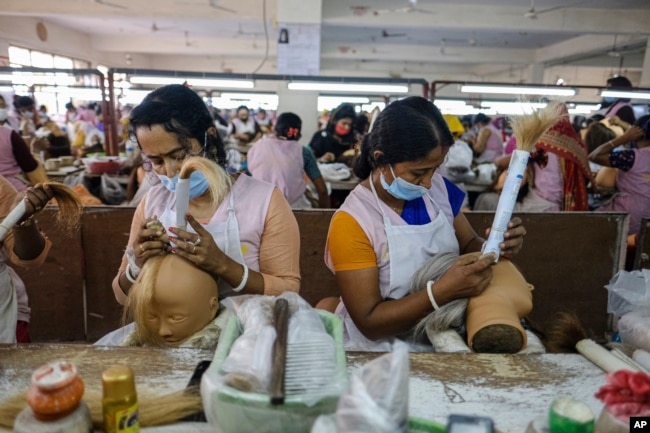 Workers set hair on mannequins at a factory inside an export processing zone in Mongla, Bangladesh, March 3, 2022. (AP Photo/Mahmud Hossain Opu)



Sheikh Abdur Rahman is the mayor of Mongla. He says that more investment has been coming to the EPZ, which brings new infrastructure. The new infrastructure includes measures to stop flooding, an improved drainage system, water holding areas and a factory to process and clean the water. Other infrastructure includes widening of the Mongla river channel and a new rail line to connect Mongla with India across the border.
"There was only about 2,600 workers in the Mongla EPZ in 2018, but now there are about 9,000 workers employed in different factories. The changes are visible," Rahman said.
Resh Begum is a 28 year old woman and one of Mongla's newest factory workers. Her home was lost to a river. Now she lives with her family on another person's land, but she has dreams for the future.
"Now I earn a good amount of money each month to support my family. Maybe we will build a new house in the future by saving some money," Begum said.