7,500 families have been saved from mass evictions by Kenya Defence Forces 78 Battalion.
A report by Nation on Sunday, May 16, indicated that KDF was stopped from carrying out further evictions on the 17,000-acre parcel of land located in Tigania East, Meru County.
The freeze orders were issued by the Land and Environment Court in a case filed by 13 of the victims.
The team moved to court at the beginning of May to protest the move by KDF to take over the parcel arguing at the time that the battalion had begun the process of evicting residents.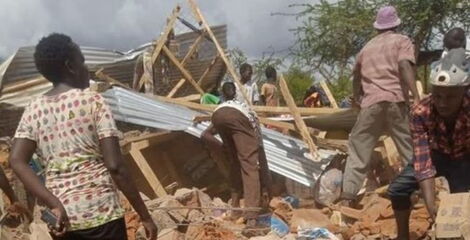 In court documents, the petitioners claimed that they were being evicted without any justification and that noting that the army had illegally dug trenches on the land.
They also argued that some of the respondents mentioned in the suit, who included Cabinet Secretaries, regularly visited the land with surveyors.
"They have illegally obtained a lease title no. 27098 and that they are using this lease title to legitimise their illegal actions.
"If the actions of the respondents are left to continue, the petitioners, who live on the said land and have developed the same so extensively, will be displaced and be rendered landless," stated the complainants.
The petitioners, the majority of whom are peasant farmers, also complained of being threatened with unknown consequences if they did not vacate from the land in time.
The residents had created a community on the land and constructed six schools, five health facilities, four market Centres, 10 churches and four mosques.
"The suit land now serves as the breadbasket for the Northern frontier and a host of various National Government projects such as Lappset, Kenya Pipeline Refineries at Kisima and others," they added.
Other respondents in the suit include the Chief of the Defence Forces, Tigania land settlement officer and the Attorney General. The CSs for lands and defence were also included in the suit.