Resurgence of a Poduchuan village: The story of a Kondh Tribal journey of tenure security to holistic Development in Odisha
Resurgence of a Poduchuan village: The story of a Kondh Tribal journey of tenure security to holistic Development in Odisha
The trials of Poduchuan, a small Tribal village perched on foot hills of K.Singhpur in Rayagada District, for establishing their identity over their customarily managed forest and land was arduous yet rewarding. They hardly knew, when they left their village decades back and settled here making the serene forested landscapes their own, that they would have to prove their credentials to outsiders every time they used their ancestral lands. For, they had named the hills surrounding their village,  a name that stuck with the hills forever, yet the officials considered them encroachers. The officials fined them for dwelling on their own lands, because these lands were recorded as government land on records. Villagers like Bari Pidisika could hardly explain why their rights over their forests and lands were not recognized.He scratched his head vaguely when asked about the land settlement and said "We assisted the settlement people in measuring the lands and held the chains. They could have recognized our rights in that settlement. We requested them a lot. But the settlement people did not pay heed to our pleadings and suggested that we stay here as we were staying". The land survey and settlement that started in 1932 in undivided Koraput District including the present Rayagada district and continued until 1964 left out vast hilly and inaccessible forested areas measuring up to 8000 square kilometers. Similarly, several tribal villages and settlements located in this hilly terrain, either remained unrecognized or not settled properly. No one could explain why the rights of people living in Poduchuan village were not settled despite their eligibility. It was all lost in the archives of settlement history. Yet this small village of Poduchuan Padar, consisting of 27 Kondh Tribal households depending completely on agriculture and forest for their survival, had to often face harassment, fine, seizure of crops etc for using lands and forests traditionally claimed over generations. Tamana Pidisika, aged around 60 years with considerable experience, said "We were often treated as encroachers on our own ancestral lands. It hurt us a lot. Our life was embedded with these forests and hills. We have grown up watching these landscapes change. Why are we then asked to show our identity every time we enter our own forests?"They felt marginalized as lack of recognition of their legitimate rights over land restrained them from accessing their entitlements, education and other basic facilities.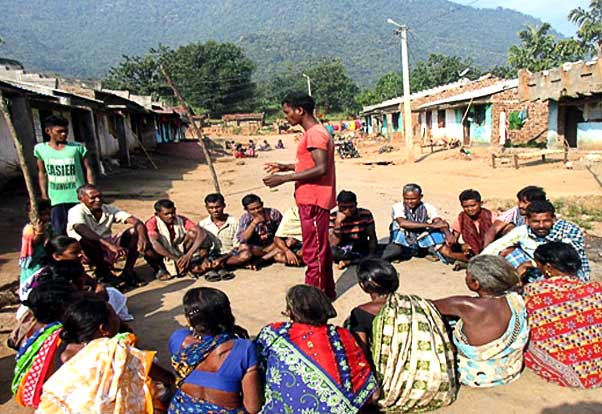 These struggles of Poduchuan village however prompted NIRMAN, a leading grassroots organization working on forest rights, to venture out and mobilize the community for their legitimate rights over their land and forests. The empowering legislation of "Forest rights Act,2006" that vested legal rights to Tribal and forest dwelling communities over their customarily used land and forests and empowered them to conserve these resources sustainably further strengthened this endeavour. While this initiative witnessed the Gram Sabha playing a significant role in filing of claims for legal rights over individual land and common forests under this law, the battle of Poduchuan for its rights seemed far from over. Rather their circumstances pushed them to collective action for asserting and defending their rights. When even after filing claims, nothing moved forward for two years, the villagers resorted to RTI and filed a complaint before the grievance cell of the District administration, and even protested. In fact, the hope of getting legal title or patta for their houses, cultivated lands, and commonly used forests kept them going despite delays and uncertainties. Finally, after trying hard and continuously following up with the authorities the 25 families of Poduchuan received their land title in 2014-15 over their houses and agricultural land and Community Rights. But, the title distributed by district administration was highly limiting and not in accordance with the broader provision of FRA. The villagers refused to accept the CFR title and protested against it before the district administration forcing them to change the title and include all rights over forest and hills as claimed by people over 178 acres of CFR area. It was a huge relief for a village striving hard for survival amidst continuous probing of legitimacy of its customary claims over its lands and forests.
Even after getting rights, the villagers had to fight equally hard to retain their hard-fought rights from being encroached by forest officials for undertaking plantation in 2017. The trials and tribulations had emboldened them to such an extent that they refused to bow down before the officials whom they once dreaded. Now they flaunted their rights and fought hard for it. Eventually they managed to stop plantation over nearly 50 Acres of land being customarily used by the adivasi community.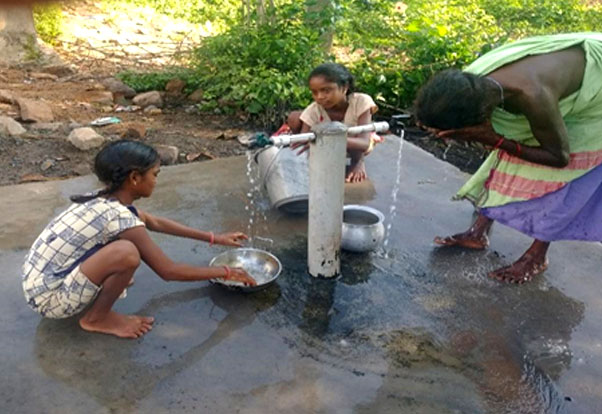 The grits shown by villagers in retaining their rights amidst adversity however laid the foundation for changes not anticipated by villagers when they set out on this journey with NIRMAN. One thing led to another as all families including 9 single women who received land title were linked with IAY and concrete houses replaced old muddy houses. The farmers who once endured repeated crop losses due to increasing climatic hazards quickly adapted to improved farming methods of line sowing for climate resilient nutritious millet crops promoted by NIRMAN under the millet mission program of the government. It not only improved their food and nutrition security at household level but they also received around Rs 2300 per family as incentive from the government. More lasting changes followed soon. The land titles enabled them to obtain long cherished caste certificates which allowed them to send their children to boarding schools run by the government in Tribal areas. These changes also drew the attention of the government and a new school was set up in the village, drinking water facilities created and a new concrete road was constructed under Pradhan Mantri Gram Sadak Yojana (PMGSY).
 
More sustainable and productive changes in the landscapes of Poduchuan still awaited. And when the village was included in a watershed implemented by NIRMAN in 2020, the village witnessed several land and water resource conservation measures including 8 recharge pits, contour bunding in the lands of 80% of the families, guide bunding etc. These interventions are likely to enhance ground water recharging, increase access of villagers to water for cultivation and reduce the instances of frequent dry spells. The renewed vigor and ease with which the villagers of Poduchuan manage their resources is quite visible from their interaction with outsiders.
 
Story Contributor: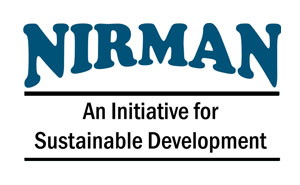 This story was originally published on the Our Land Our Story site.