The Ministry of Lands and Planning is set to embark on mass verification of title deeds in Nairobi's Thome area following reports of fraudulent land transactions.
In a notice, the Lands CS stated that the validation exercise of the title deeds in Nairobi Block 110 would commence from May 24 to June 2021.
The exercise, she noted, would apply to all plot owners in the area to establish the validity of the records showing ownership.
"The plot owners are requested to prepare and drop copies of your proof of ownership documents for your plot at the survey of Kenya between May 24 - June 2021 between 9 am- 3 pm," she explained.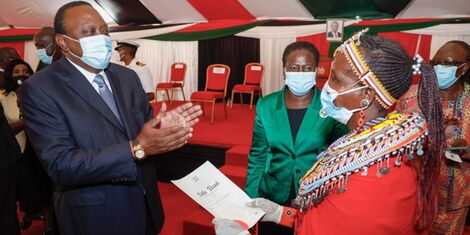 The ministry had earlier placed a moratorium for suspending land transactions involving the parcels of land in the area following several complaints of fraudulent land transactions.
A plot owner looking to have their land verified should present, copies of the title deeds, certified copies of grant issued by the court for succession matter, copy of transfer documents, sale agreements, share certificate and receipt for payment from Thome farmers.
One should also present a copy of National ID and KRA Pin for Individuals or copies of certificate registration certified CR12 copies and KRA Pin for Companies/Institutions.
"It is a criminal offence to present fake or forged documents and doing so will lead to arrest and prosecution," the CS warned.
The government has embarked on digitisation of land parcels in Nairobi as a means to map out all the plots in the city and their ownership.
Karoney stated that the digitisation of land records would ensure accountability, transparency and efficiency in land administration and management.
In April 2021, President Uhuru Kenyatta launched the National Land Information Management System (NLIMS) dubbed Ardhisasa to speed up land transactions and enable the common mwananchi to access all services offered at the Lands ministry through the digital platform.
"At the click of a button, users will now be able to search and carry out various land transactions, drastically reducing human interactions, delays and other inconveniences previously experienced at land registries," the President stated.