Language of the news reported:
Muslims are 'not officially recognised' as internally displaced and receive little government help to resettle after 26 years of civil war, activists say
Despite growing Muslim population, some fear reprisal by Tamils if they try to 'reclaim' their place in the country
Main photo: Rasika Rajabdi (right), with a neighbour in Mullaitivu, Sri Lanka. Photo: Sonia Sarkar
Rasika Rajabdi was barely eight years old in 1990 when she and her family were forced out of their ancestral hometown of Mullaittivu in Sri Lanka's northern province by armed rebels during the nation's civil war.
The youngster and her parents spent a few months in a camp for internally displaced people in the western coastal town of Puttalam, 200km away, before moving to a rented house in the area.
The war ended in 2009 after 26 years and Rajabdi, who was married by then, was able to return to Mullaittivu with her husband and parents in 2012.
Instead of a happy homecoming, though, her Tamil neighbours were not pleased to see her again and called her an "outsider", said Rajabdi, now a 40-year-old farmer. "They never expected us to come back. They never wanted us to resettle where we belonged."
More than 300,000 Tamil Hindus were displaced in the war between the Sri Lankan army and the Liberation Tigers of Tamil Eelam (LTTE), an armed rebel group that wanted to form an independent nation for Tamils.
The LTTE did not consider the mostly Tamil-speaking Muslims 'trustworthy' as many of them were part of the so-called home guards, a paramilitary force deployed by the Sri Lankan ministry of defence in the northern and eastern provinces during the 1990s.
In a series of attacks between July and September 1990, the LTTE is said to have killed more than 300 Muslims inside two mosques in the eastern town of Batticaloa, while Muslim home guards and the Sri Lankan army allegedly killed more than 220 Tamils in Sathurukondan in the east and Puthukkudiyiruppu in the north.
Rajabdi and her family were among 112,000 Muslims who were forcefully evicted and lost their land during the war, according to estimates by the UNHCR, the UN Refugee Agency.
A few government projects facilitated the resettlement of displaced Tamils after the war but Muslims, who make up 9.7 per cent of Sri Lanka's 22 million people, did not receive much help.
The government "never officially recognised" Muslims as internally displaced, said Shreen Abdul Saroor, a peace advocate and women's rights activist.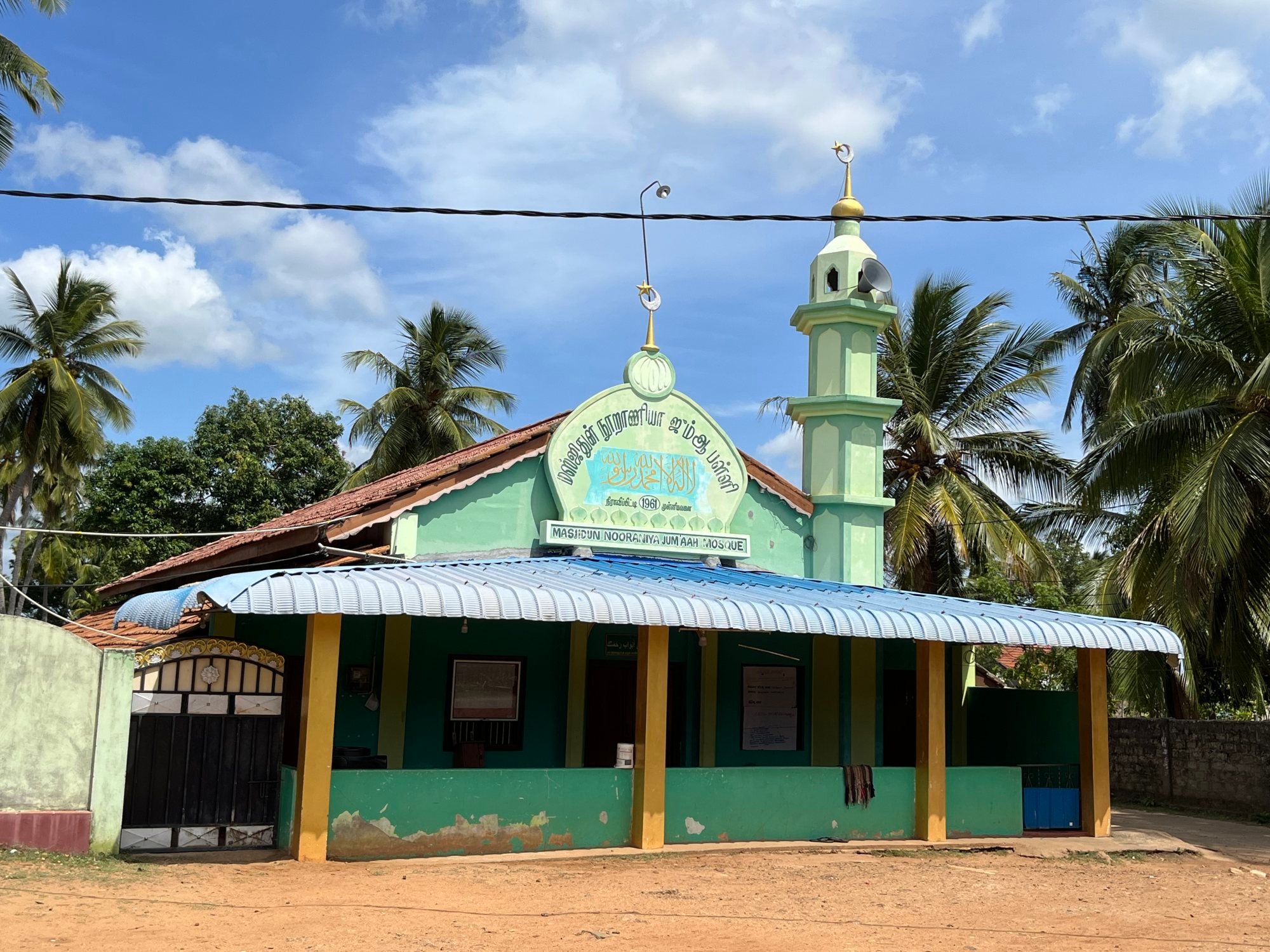 A mosque in Mullaittivu, Sri Lanka. Muslim Rasika Rajabdi and her family were evicted from the town during the civil war and stayed away for more than 20 years. Photo: Sonia Sarkar
She has been easing the resettlement of female war victims and advocating peace between Muslims and Tamils in the northern and eastern provinces, the region previously claimed by the LTTE, and now by the nationalist Tamils.
According to Saroor, unofficial estimates show the families of the displaced 112,000 Muslims have expanded over the years, taking the total number to 300,000. Of these, an estimated 260,000 still live in camps in the eastern, western and north central provinces, while only 40,000 have resettled in the north.
"The sources of livelihoods for Muslims, who are primarily into agriculture, fishing and retail businesses, are limited in the north," Saroor said, adding that the LTTE and Sri Lankan army took away land owned by Muslims after the eviction.
Sri Lanka's former resettlement minister Rishad Bathiudeen, a Muslim, negotiated with some Islamic organisations to build houses for the displaced Muslims in some places.
But Saroor claimed the government did not want the international community, specifically Islamic countries, to realise the extent of the crimes committed against Muslims.
"It took 10 years for the UNHCR to establish an office in Puttalam where large numbers of internally displaced northern Muslims still live," she added.
Despite the lack of government help, other non-profits such as Refugees International and the European Union's 'Homes not Houses Project' have tried to facilitate peace and resettlement for Muslims.
Rajabdi and the Mullaittivu-based Muslim activist, JM, who preferred to use her initials, are both beneficiaries of the 'homes' scheme, which builds houses for both displaced Muslims and Tamils. It partly financed the construction of the women's new dwellings.
JM said some Tamils seized land Muslims left behind while escaping LTTE atrocities, while some Muslims sold their land to Tamils while distressed during the eviction period.
In 2017, Tamils in Mullaittivu argued Muslim resettlement in Wilpattu (134km away) would destroy forests planted by the LTTE. No Muslims were allowed to resettle in the area.
Although the LTTE rebels have long gone, Tamil nationalists and politicians still consider Muslims a "threat to their right to self-determination", Saroor said.
Muslim politicians created political parties based on religious identity and also supported the Sinhalese majority government, causing many ordinary Muslims to be viewed as government informants, she added.
Colombo-based restaurant owner Mohammad Ali echoed Saroor's sentiment, recalling how in October 1990, LTTE cadres in Mannar in the north publicly warned Muslims to leave their homes without their valuables within the next 48 hours or be killed.
Mass expulsion of Muslims took place in other parts of the north at the same time.
Ali, 47, said he feared there could be a repeat of "violence" by Tamils if Muslims tried to "reclaim" their place.
Mahendran Thiruvarangan, a senior lecturer in English at Sri Lanka's University of Jaffna, said there was a perception among some Tamils that the growing Muslim population would "alter" the ethnic composition of the area and create an unfair burden on Tamils who "remained and suffered" through the war.
After the war ended, then president Mahinda Rajapaksa promised to appoint a presidential commission to look into the expulsion of Muslims but that never happened. Instead, the community faced attacks by a section of Sinhalese Buddhist monks, who were Rajapaksa supporters.
More than 1,800 Muslims were arrested after the Easter Sunday bombings in 2019, which were blamed on Islamist militants. More than 260 people were killed in the attack.
Saroor said more than 250 Muslims had been framed under the Prevention of Terrorism law since then, with 170 other local Muslims and charities also blacklisted under the law last month.
Some Muslims were also denied voting rights. In the 2019 presidential election, buses carrying Muslims from Puttalam to Mannar to cast their ballots were attacked by mobs.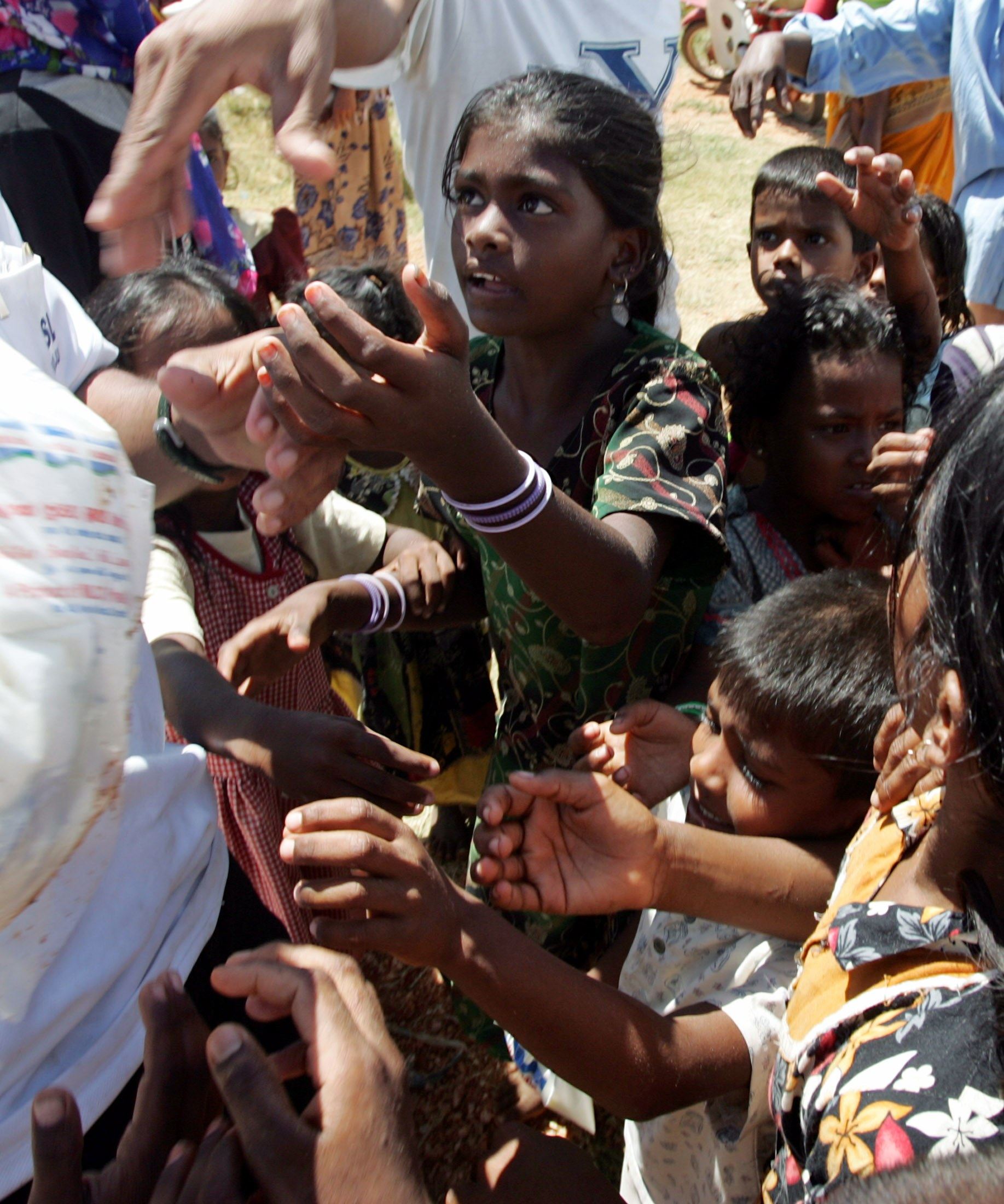 Muslim children in Sri Lanka, fleeing from civil war fighting in 2006, collect food at a refugee camp. Photo: Reuters
Government officials do not allow internally displaced Muslims, who are registered to receive rations in Puttalam, to cast their votes in the north because it takes away their political representation, Saroor said. "These Muslims are not allowed to vote in Puttalam either."
A series of recent regressive steps by the government, including the prohibition of burials for Muslims who died from Covid-19 and the shutting down of Islamic schools, have further alienated the community.
Last year, thousands of Muslims and Tamils from Pottuvil in the east organised a five-day joint rally – the first such gathering of the two communities since the 1990s – to Polikandy in the north to protest against the state's oppression of both.
But lecturer Thiruvarangan said some Tamil activists and politicians "pushed" for their nationalist demands, calling for the recognition of the northern and eastern provinces as the "homelands of the Tamils" instead of focusing on the reconciliation between the two communities.
"The indication is clear that the north and east are mainly for Tamils while Muslims are secondary in the ethnic hierarchy in both places," Thiruvarangan said.